13,00 RON
> 50% PG - 50% VG.
> 20mg/ml Strength
> TPD Compliant.
> 10ml Volume.
In stoc
Durata de livrare: 1-2 zile
Descriere
Caracteristici
Review-uri

(0)
NIC-SHOT
SteamOK NicShot is designed for nicotine free short-fill e-juices that are supplied in a bottle which leaves free space for the nicotine shot. You can also use it for discreet vaping, topping up on nicotine or diluting e-juices.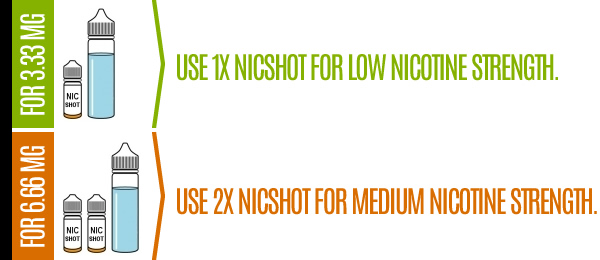 FOR HIGHER NICOTINE
You can reach up to 16.66mg by using 5 bottle of SteamOK Nicshot, one bottle of SteamOK 10ml flavor concentrate and 60ml of empty bottle.
ADDITIONAL INFORMATION
This product is made in Romania with using best quality vaping grade nicotine. All ingredients conform to EU and RO safety standards and produced in clean room conditions.
This product contains 3 basic ingredients which are (50% PG) propylene glycol, (50% VG) vegetable glycerin and vaping grade nicotine.
This product contains 10ml size TPD pet bottle, childproof (CPC) cap with long dropper tip and 10ml of 20mg nicotine base.
This product contains nicotine which is a highly addictive substance. Click here for more details about NicShot.
Concentratie Nicotina: 20mg
Destinat Pentru: Avansati
Continut Pachet: 1 x Nicotina lichid
Culoare: Transparent
Cantitate: 10ml
Tip Produs: Lichid tigara electronica
Ultimele produse vizualizate
---

Comparare
Trebuie sa mai adaugi cel putin un produs pentru a compara produse.

A fost adaugat la favorite!
A fost sters din favorite!