FatCat NutMeow eJuice 40ml
FatCat
33,00 RON
We proudly bring to you the funniest little mix in existence! Pralines bathing in caramel milk with cake cream on top and a drop of Irish cream for a little edge. It is playful and slightly nuts but will bring you the greatest experience you'll ever vape. After this you'll purr and meow like a nut!
In stoc
Durata de livrare: 1-2 zile
MIX'N VAPE


| | |
| --- | --- |
| | 70% VG PENTRU CEA MAI BUNA EMISIE A VAPORILOR. |
| | PRODUS CU AROME ALIMENTARE DE INALTA CALITATE. |
| | COMPATIBILITATE SUB OHM. |
| | CEA MAI BUNA EXPERIENTA IMPREUNA CU BAZA NOASTRA NICOTINIZATA. |
NICSHOT USAGE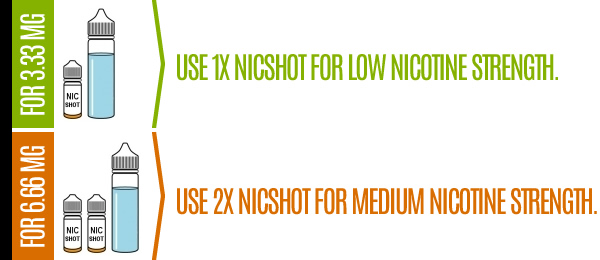 ADDITIONAL INFORMATION
Acest lichid pentru tigara electronica (E-juice) este fabricat cu dragoste, în România, folosind ingrediente/arome naturale și artificiale de cea mai bună calitate, în condiții deosebite de igiena a spatiului de productie. Toate ingredientele sunt conforme cu standardele de siguranță UE și RO.
Acest produs conține 3 ingrediente de bază: propilenglicol, glicerină vegetală și arome de înaltă calitate.
Pentru cea mai bună experiență de producție a vaporilor, lichidele noastre pentru tigara electronica au o compatibilitate completă sub OHM cu gama 70% VG și 30% PG.
Acest produs conține un recipient de plastic (PET) de 60 ml, capac cu protectie pentru copii (CPC)si vârful picuratorului ușor deschis iar în interior 40ml lichid pentru vapat.
Acest produs nu conține nicotină.
Ultimele produse vizualizate
---

Comparare
Trebuie sa mai adaugi cel putin un produs pentru a compara produse.

A fost adaugat la favorite!
A fost sters din favorite!